Go back to: Home

You think you have what it takes to be the ultimate champion? Try your hand at a Free for All siege and prove yourself!


FFA Siege
FFA Siege (Free For All Siege) is basically an arena battle that will last 20 minutes. From the time it opens you have 3 minutes to get into the arena and prepare for battle. If you miss the start, don't worry you can still enter and take part, however you just won't have as much time to get to #1! For now there are no set lives so you will have 20 minutes of pure fighting with the only thing slowing you down from reaching that #1 spot is the 10 second re-spawn timer.


Basic
FFA Siege is held daily every 2 hours alternating with Guild Siege in Channel 1.
Participant must be at least level 121 or higher.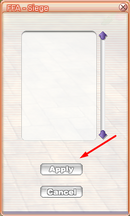 How to Apply
Players can sign up in Flaris by talking to Amos, he stands next to the Guild Siege NPC's.


Schedule
All times are based in PST (GMT+12)
1:00 am
3:00 am
5:00 am
7:00 am
9:00 am
11:00 am
1:00 pm
3:00 pm
5:00 pm
7:00 pm
9:00 pm
11:00 pm


Rewards
For every kill you get you will get a few Red Chip, kill the player in 1st position and you will get a few extra! If the person you kill has a K/D (Kill/Death) of less than 0.25 there will be no Red Chip rewarded.